The Wilcox RAPTAR Lite ES has a military pedigree with civilian sales, a very good thing for those of us who appreciate the technology and advantages it delivers. If you run night vision (NV), this top of the line device deserves a look. Short for Rapid Targeting Module, our RAPTAR Lite ES combines an IR Laser, IR Illuminator, a visible red laser and a Surefire white light. Functionally, it shares some features with other civilian and military hardware, but with a twist – that Surefire flashlight protruding from the front. Combine that with a stunning level of customization and control options and you have new level of functionality to mount up to your rifle. It's a control freak's dream come true.
The original RAPTAR was created by Wilcox to fill a capability gap for a weapon mounted IR (Infrared) laser range finder for the military. Simply put, it's tricky to ascertain distance at long range under night vision. An IR range finder allows military personnel to determine the distance to their target quickly and then accurately put rounds on it. This range finding technology combined with power options commands a six thousand dollar price tag, a bit heavy for even hard core tactical hog hunters. But fortunately for us, that's not the end of the story.
Wilcox recognized that they had a product that would provide a new level functionality for those of us who like to train or hunt at night. Our friend Fred Mastison at Force Options might suggest those activities are one in the same. So Wilcox gutted the range finder and replaced it with a Surefire white light. That's different, and it turns out to be a winning combination. Or losing, if you could ask some of the hogs we've engaged using the RAPTAR Lite ES.
The substitution of the Surefire white light explains the "Lite" part of the device name. From a features and price perspective, and given the light thrown from the 80 Lumen flashlight head, we get it. Why "Lite" instead of "Light"? I have no idea. Someone thought it was catchy. Either way, after taking out pigs in an open field one night, we ended up chasing a couple on foot. They can run a lot faster than I can, but that's another story. Literally switching to the dual white light and visible red laser mode on the run, and flipping my PVS-14 up and out of the way, I finished off one good sized pig up close. Now that was fun, and demonstrated the versatility of the "Lite" version of the RAPTAR.
There's still more to that white light. You can set the output from 5 lumens up to 80 lumens, just one of the numerous customization and control options available. Want to control the brightness of the LEDs? No problem. How about change the brightness of your visible red laser? Sure. You can program your lasers to one of several different pulse patters. That's a win. If you've ever hunted with three or more people using IR lasers under night vision, you know it can get tricky aiming at hogs in close proximity to each other. Which dot is yours? With the RAPTAR Lite ES, you know yours by the pulse pattern you've selected. Or the steady dot if that's what's called for.
The "ES" part of the name is short for "Eye Safe." That Class 1 laser is part of the reason mere mortals can get their hands on these.
When it comes to user settable features, this really is a control freak's dream come true. There are more control options on the device menu than you'll find on some restaurant menus. That can be a little intimidating, but once you mess around with it for a little while, it's almost intuitive. If you really jack it up, just use the return to factory default option.
Another big win for the RAPTAR Lite ES is the use of co-aligned lasers. Zero one, and the other is zeroed with it. It saves you time, ammo, effort – the benefits of that cannot be overstated.
Reality being what it is, nothing made by human hands is perfect. The RAPTAR Lite ES is not the smallest nor the lightest weight among its competitors. Additional features and controls add up in both cases. Still, including the battery and remote, it's only ten ounces.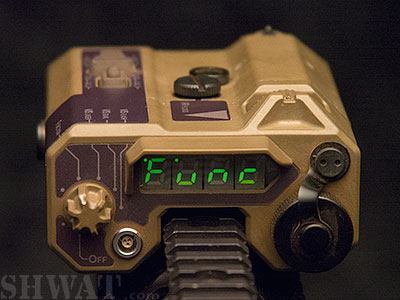 The real Achilles tendon is the mount. The RAPTAR was designed to be a direct mount to a Picatinny rail. The design uses saddle bags to place the lasers and flashlight low against the rail. All good and well thought out so far. But the unit is secured to the rail by a ¼ 20 threaded screw. Only a tiny percent of rail systems on the market can accommodate that without some sort of modification. So Wilcox created a couple of risers that attach to your rail, and have the corresponding threads, allowing the RAPTAR to be secured. But now the advantage of the low profile design is lost. That is a bummer. Having killed hogs with this piece of kit, I'm having my rails modified. It's worth it to me.
On balance, this Wilcox RAPTAR Lite ES is great tool for night vision users. It's not the cheapest thing on the market. You can find it online between $1500 and $1600. Top of the line gear always seems to carry higher end pricing, and this is indeed top of the line. I'm really pleased with mine, and the value equation in features and functionality is simply unparalleled at this time. If you connect with the SHWAT Team for any of our upcoming member events, just ask to see it. But you'll probably want one after that. Everyone we've shown it so far agrees.