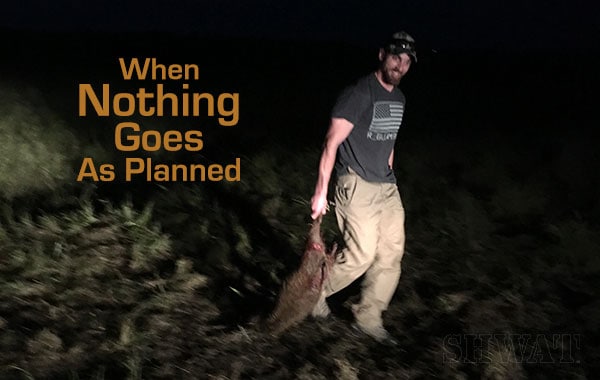 We have all had those trips in which we felt things were set perfectly, we had a great positive outlook and were ready for the challenges ahead no matter what. So there I was with the new 300 WinMag Federal Premium Edge TLR ammo… New Savage Long Range Hunter? Check. New Bushnell LRTS 4.5-18? Check. I even had new pants! This was going to be awesome, as it should be. Typically, I only make it out to hunt hogs about once a year. With my present schedule, it"s about all I can manage. So I try to make the most of my time to film and document many projects and products on my test list.  As far as a test medium, wild hogs are hard to beat; they are tough and tenacious and as a bonus they taste great, but that's a different story. But when I landed in Texas things went south almost immediately.
My camera – a key piece of gear for this kind of thing – decided to stop working. Then the weather got crazy and someone most have told the big boars not to play outside in torrential Texas thunderstorms.
This all got started when my good friends at Federal Premium asked if I would have an opportunity to test the new line of ammo and bullets which were released in January at Shot Show 2017.  The premium line showcases the new EDGE TLR bullet, a conventional bonded lead core polymer tipped bullet, slated for consistent expansion at extended ranges but also offers great close range capabilities.  With any conventional type bullet, expansion can be erratic as velocity decreases. Federal tested expansion on the Edge TLR to 900 yards in ballistic gel and saw good expansion, calculating an impact velocity right around 1640 fps for the 300 Win Mag load.
With a limited timetable, the test was to see if we could get a mid-range (300-400 yard) shot on some hogs with the 300 Win Mag. This would make for a great test of the nearly perfect mid-size magnum for big game out to distance.  I chose the Savage Long Range Hunter, sporting a lighter contour barrel than I would personally prefer. It still shot well, grouping about a 1.5 inches at 100 yards, though I feel with a bit more break–in and time on this rifle it could tighten up a bit. I will say that out of all the 300 Win Mag rifles I have shot, this might be the softest shooting.  It has an effective break and extremely soft recoil pad, 40 plus round sessions off the bench were quite easy.
I topped this rifle with a Bushnell LRTS 4.5-18x 44mm, a great looking scope sporting a FDE color which is a nice change over black.  It gave great clarity and positive adjustment, though for my personal bias, I prefer a MOA over MILS.  The overall magnification range was perfect for this set up.  It gave ample power to engage targets at extended range. The "quick throw lever" made it easy to adjust magnification.  I mounted it in Weaver rings and bases, which held securely.  If I were to set this up for consistent long range work, I would opt for a 20 MOA base like the ones offered for Evolution Gun Works.
Now all set up, I headed down to Texas to see what we could accomplish on the wild hog population.  I met my good friend James DeVolgaer, owner and operator of the Kaian Vista Ranch in Lometa, Texas.  Having hunted this ranch last year, I knew the quality of the hogs I expected to see and that we could set up for just about any engagement you can imagine.  Having flown in on Thursday, sat in the blind that evening, followed by the next morning and evening, it was clear the hogs were not cooperating and the weather followed suit.  I joked with James  leaving the blind Friday evening, musing that I must have brought some bad luck and that Jersey wasn't welcome in Texas. As we drove heading back to the house a storm was rolling in.
Rounding the corner and passing a nearby feeder, James stopped. He could see hogs feeding.  At that moment it was game on, as we needed to break the bad luck. I jumped into the bed of the truck and set up to shoot off the roof. The rain intensified as the lightening cracked and the thunder boomed. The light was fading fast.
I could see a group of small hogs at the feeder, not exactly what we came for, but I was slated to cook pork this weekend and we needed to get some meat on the ground. Picking out one on the edge of the group, the first shot broke, dropping hog number one.  Thanks to the lighting and thunder, the pigs seemed to be confused as to the source of the gunshot. I quickly ran the bolt and proceeded to shoot two more.
We had accomplished the goal of shooting some hogs with this rifle and bullet combination, although are 50 pound "eater" sized hogs a true test?  While my initial response would be "No, a 300 Win Mag at a bit over 100 yards on game that small is overkill." After examining the hogs, we could see that we had expansion and good terminal performance, even on these thin skinned pigs.  So actually the bullet functioned exactly as advertised.  Having a bullet which is tough enough to hold together and give good penetration, and yet soft enough to still function on targets which offer little to no resistance and get results.
We continued to hunt the entire weekend and set up for some larger hogs, though it just didn't happen.  I have no doubt this bullet would stand up to any large pig you could throw at it, I look forward to testing this load out more in the future and stretching its legs at some extended ranges.
About the Author:
Matthew Cosenzo is a Chef, Writer, Reloader and all around around outdoors-man, passionate about everything from the woods to the water. Widely published, we hope you'll see more from him here soon.
https://www.facebook.com/Matthew-Cosenzo-344653045734457/?ref=aymt_homepage_panel
https://www.instagram.com/matthewcosenzo/