Trijicon has a reputation for amazing glass and incredible ruggedness. The 3-9x riflescope range has been a staple of American hunting for generations. Put the two together and add a battery powered illuminated reticle and you have the Trijicon AccuPower 3-9×40 riflescope. I have four similar scopes at the moment and in this brief review I'll tell you why I think the AccuPower scope is superior to much of its competition.
We buy magnified riflescopes to give ourselves a better look and more precise shot at distance than most of us would get otherwise. We can evaluate quality much like we would our next camera lens purchase. I've depended on high end photographic lenses to help pay my bills for many years, so I'm a bit a glass snob – I know the difference and want great glass. Optics are optics, and the same priorities of quality and durability carry over to riflescopes.
The Trijicon AccuPower 3-9×40 doesn't disappoint. I find the glass sharper, brighter and having a greater degree of contrast than the other similar optics on hand at the moment. Colors are crisp and accurate, not muddied. The big name optic sitting next the 3-9x AccuPower comparatively suffers in all these areas. Every bit of that matters when it's time to put the crosshair on your target.
Trijicon's build quality is legendary, perhaps in no small way due to the use of the ACOG optic by the United States military. I've had one since long before SHWAT™ was conceived and it remains a tough reliable favorite. The one inch tubed AccuPower 3-9x has all the hallmarks of a Trijicon. It feels solid and is waterproof to ten feet. The quarter MOA windage and elevation adjustment knobs have almost zero play. The diopter adjustment is smooth and easily set, but shouldn't get inadvertently shifted. The same goes for adjusting the magnification. Trijicon even added a nice speed lever to make magnification adjustments ergonomically easier, and that translates to faster. If I ranked scopes on user interface, this would get five stars.
When it comes to reticles, the Trijicon 3-9x is a second focal plane model. That means that the reticle doesn't change sizes when you change magnification levels. It might not be ideal for long range competition shooting, but in my experience hunting second focal plane reticles are great. You need that reticle to be easy to use at a moment's notice and you're probably not ranging targets at 900 yards with a 3-9 power riflescope. That's not to say you can't.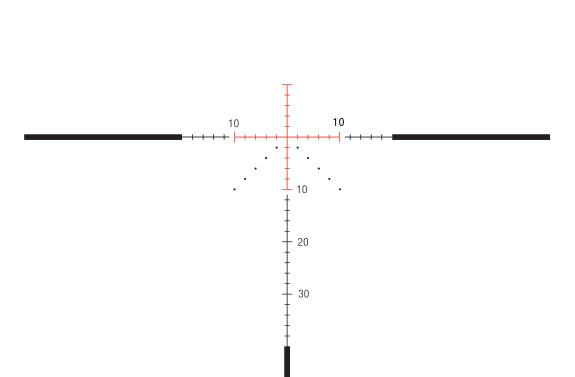 Available with a simple crosshair, a MIL-Square crosshair or an MOA (minute of angle) crosshair, the later two can be used at nine times magnification for ranging your target if you know the math. The 3-9x AccuPower on my rifle at the moment has the MOA reticle with "tick marks" every 2 MOA. With 50 MOA on the vertical crosshair and 40 MOA on the horizontal, you'll have lots of opportunity to work on making every shot count. Total adjustment range for both windage and elevation knobs is 60 MOA.
All the reticle options in the AccuPower line can be illuminated by battery power at the twist of the control knob. You buy them as either illuminated red or green, they are not switchable. There are eleven brightness settings ranging from super dim (is it there?) to plenty bright but happily not overbearing. Between each brightness setting is an "off" position, so no matter the brightness setting you're always one click from off, and one click back to where you were. The CR2032 lithium battery is rated for 31 hours, which may or may not seem like a long time to you. Keep in mind that rating is at full brightness and some other options on the market get their endurance numbers from a midrange brightness setting.
It's not a bargain scope. MSRP for the AccuPower 3-9×40 scope is $699, but it's all over the internet for $595. I even found it for less than $570. There are plenty of cheaper 3-9x optics out there but they lack the more useful and sophisticated reticles. And you can spend more for a similar optic, no problem. So is it worth spending that kind of money? Brian McCombie has a great answer to that you ought to read. I agree with him. This  Trijicon AccuPower 3-9×40 is a winner, and up against the others I have at the moment, it's the best.