When it comes to firearms, there's never been a better time to be a tactical hog hunter.  Gun makers keep producing new rifles, in new calibers and various tactical configurations.
Some of the new rifles on the market today are designed with rather specific hog hunting applications in mind, such as suppressed hunting.   Others allow you to apply the tactical advantage across a wide range of hog hunting situations.
As a way to kick start the discussion, SHWAT presents ten of the top hog killers available today.  Let us know what you think, as well as your personal favorites for engaging multiple hog targets.  Use the comments, or jump on our Facebook page to post.  We'd like to include your suggestions in an upcoming SHWAT feature!
ArmaLite AR-10(T)
I was hog hunting in East Texas recently, and I took along an ArmaLite AR-10(T) chambered in .308 Winchester.  It's a great hog hunting rifle!  At the shooting range, before I left on the hunt, the AR-10(T) punched paper like a champ, and I really appreciated the smoothness of the two-stage National Match trigger.
But it was an even better tactical choice in the field, giving me all the punch of a .308 with the size and weight of a nifty carbine.
"We brought it back about two years ago and make regular, but limited, production runs of the rifle," says Arthur Steadman, ArmaLite's Communications Director.  "They sell like popcorn at the movies! Usually they're black, but we sometimes make distributor specials in green. The barrel is target grade to take down the hogs, its carbine length to keep down the weight, and it's tricked out sleek so it doesn't get caught on brush."
The later was really helpful when I found myself busting through the thick East Texas countryside.  And while I was there, a 200-pound boar also found out what lots of tactical hog hunters already know:  the AR-10(T)'s major hog medicine!
Model: AR-10(T) Carbine with Free Float Handguard in Black
Caliber: .308/7.62 X 51mm NATO 

Barrel: 16″ Stainless Steel Barrel, Threaded 5/8 – 24 

Rifling Twist: RH 1:10″ 

Muzzle Device: Flash Suppressor 

Front Sight Base: Gas Block with Picatinny Rail 

Upper Receiver: Forged Flat Top Receiver with Picatinny Rail and Forward 

Assist 

Trigger: Two Stage National Match 

Overall Length: 37.5″ 

Weight: 8.61 lbs 

Accuracy: 1 MOA 

Included with Rifle: One 10 Round Magazine, One 20 Round Magazine, Black 

Case, Limited Lifetime Warranty
---
Ambush Firearms 300 AAC BLACKOUT

Ambush Firearms is the tactical hunting arm of Daniel Defense, one of the country's premier military and law enforcement gun makers.  While the 6.8SPC has been Ambush's flagship rifle for a while now, their new 300 AAC Blackout rifle is making its self very well known in tactical hog hunting circles. Not only is it chambered in the increasingly popular 300 AAC Blackout round, providing 30- caliber power and suppression capability with AR rifle functionality, the Ambush 300 AAC Blackout was definitely made with the tactical hunter in mind.
"Firing the rifle with 300Blk, with sub-sonic ammunition and a can?  That rifle's about as quite as you can get," says Jordan Hunter of Ambush Firearms.
Ambush also added an oversized charging handle latch to the bolt, making it easier to access the bolt with lower-profile hunting optics mounted atop the receiver.  The trigger guard's also flared for shooters wearing gloves, and there's a shotgun-inspired hand grip under the barrel. The first models of the Ambush 300 BLK came without a forward assist, but, notes Hunter, it soon became apparent that the assist was needed.
"In your stand, racking back the bolt to make sure a round is seated can create quite a bit of noise," he says.   "Adding the forward assist helps you ease that bolt forward without all the noise."
"A lot of thought and design went into customizing this rifle for the tactical hunter," Hunter adds.  "It's not just a painted-over AR!"
Ambush 300 AAC Blackout
Upper Receiver: Mil-Spec with Indexing Marks and M4 Feed Ramps
Barrel: Chrome Moly Vanadium Steel, Cold Hammer Forged, 1:8 twist, 16″ S2W Profile, Carbine Gas System, MP tested, Salt Bath Nitride  Finish
Chamber: 300 AAC Blackout
Bolt Carrier Group: Mil-Spec MP Tested, Properly Staked Gas Key
Gas Block: Daniel Defense Pinned Low Profile Gas Block
Grip: Shotgun inspired hand grip
Rail: 3 Picatinny Modular Rail Sections
Weight (no sights): 6lbs 12.8oz
Made in the USA!
---
Smith & Wesson M&P15 VTAC II
One of the cool things about tactical rifles is that you can make a rifle truly your own with add ons and various pieces of gear.  But not all of us have the time, desire, or knowledge to trick out a tactical rifle for our hog hunting.  For those of us in the market for a tactical hog killer that's "ready to go?"  A top choice is the Smith & Wesson M&P15 VTAC II in 5.56mm.
Smith & Wesson worked closely with Kyle Lamb of Viking Tactics to design the specifications for the M&P15 VTAC II. The new tactical rifle offers reduced recoil and improved accuracy based on the mid-length gas system. The rifle's 16-inch barrel is constructed of 4150 CMV steel and is standard with a 1 in 8-inch rate of twist and a Melonite finish. The rifle features 5R rifling, which maintains accuracy and helps to reduce copper fouling and cleaning times.
Matt Rice, of the marketing agency Blue Heron (which represents S&W), has used the VTAC II on hogs hunts, with impressive results.
"With its Geissele trigger, 1 in 8 twist and pre-packaged accessories—light mount, sling, and adjustable rails—it's at home in the hog fields as much as it is on a 3-Gun course," says Rice.
The M&P15 VTAC II is available with a VTAC®/Troy™ Extreme TRX Handguard that allows for quick target transitions made possible by its lightweight, ergonomic design. The new handguard also helps to reduce heat transfer, while the multiple accessory slots provide a myriad of options for mounting accessories. Each M&P15 VTAC II is packaged with two, two-inch adjustable Picatinny-style rails for convenient mounting on the forend.
M&P15 VTAC® II
Caliber: 5.56 mm NATO
Capacity: 30 Rounds Detachable Magazine
Action: Semi-Auto
Barrel Length: 16" / 40.6 cm
Barrel Twist: 1 in 8" 5R Rifling
Overall Length: 36.75 " Extended / 33.5" Collapsed
Stock: VLTOR™ IMod Stock / 6 Position Collapsible
Weight: 6.28 lbs. / 2,848.6 g
Barrel Material: 4150 CMV
Barrel Finish: Melonite®
Receiver Material: 7075 T6 Aluminum
Receiver Finish: Hard Coat Black Anodized
Polymer Comp Finish: Black
Chromed Components: Gas Key and Bolt Carrier
---
King's Arsenal 300 Blackout Pistol
A relative newcomer to the world of tactical firearms, King's Arsenal, of Abilene, Texas, has been manufacturing AR uppers since 2010 and selling complete rifles for less than a year.  But already, King's Arsenal is making a name for itself, and hog hunters are taking notice.  Co-owner Jordan King, a hog hunter himself, has designed an impressive hog hunting pistol around the 300 AAC Blackout round.
"With the eight-inch barrel, it's a great brush gun," says King.  "We put on a Silencerco 45 Osprey suppressor.  The pistol's surprisingly quiet with subsonic bullets and is effective out to 150 to 200 yards–with more knockdown power than 5.56mm."
King adds, "The 300 blackout shines with a short barrel and subsonic, but we offer it in a 16″ platform for supersonic users, too. The mags and bolt are the same as a 5.56 AR, and the only difference is the barrel. You may also shoot 300 Whisper and 300 Fireball ammo because it's the same specs.  Knockdown power with the ability to be very quiet when suppressed.  This is the ultimate tactical hog platform!"
King's Arsenal 300 Blackout Pistol
Eight inch Noveske barrel,  1:10 twist
Silencerco Osprey 45 suppressor in flat dark earth
With suppressor, pistol barrel is 16″ long past receiver.
Weight, approx. 5.5 pounds, unloaded.
Hogue grip custom made for King's
Geissele Super 3 Gun trigger
 Samson Manufacturing Evolution Rails custom made for King's
Sight, Eotech XPS3 compatible with night vision equipment
---
Wilson Combat Recon SBR 11" 7.62x40WT by Wilson Combat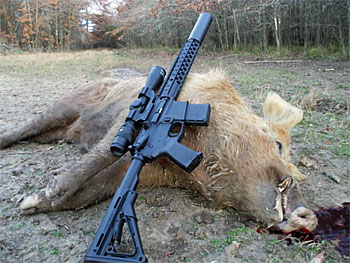 The Wilson Combat Recon SBR 11" 7.62x40WT is a rifle that Bill Wilson, owner of Wilson Combat, admits to having a real passion for.  Wilson and his team at Wilson Combat have spent significant time designing and honing both the rifle and the 7.62x40WT round.
"The 7.62x40WT is a cartridge that does what the 300 Blackout claims it can do with light supersonic bullets," Wilson explains.  "We talked Barnes into making a special bullet specifically for this cartridge and hog hunting—and boy does it work. Close to 200 hog kills and counting!"
Wilson adds, "It's suppressed with a Wilson Combat Whisper suppressor and is almost as quiet as the 6.8 SPC. This little SBR carbine is light, handy, quiet and effective. The new Barnes 110gr TTSX LV is the bullet of choice."
SBR Tactical Model, 11.3″
Forged 7075 Upper (Flat Top) and Lower Receiver
Wilson Combat SBR Tactical Match Grade Barrel with 6 Groove / 1:12 Twist (Conventional or Polygonal Rifling) or Noveske Polygonal 1:11 Twist
Carbine Length Gas System with Lo-Profile Gas Block
Threaded Muzzle (5/8 x 24) with Accu-Tac Flash Hider
Wilson Combat T.R.I.M. Rail – 10.4″
Ergo Pistol Grip
Wilson Combat Tactical Triggerguard
Rogers/Wilson Super-Stoc
Wilson Combat TTU (Tactical Trigger Unit) Single Stage, 4#
Premium Mil-Spec Bolt and Bolt Carrier, MP Inspected, NP3 Coated
Mil-Spec Hard Anodize Finish on Upper / Lower Receivers
Armor-Tuff® Finish
20 Round Modified Lancer L5 AWM Magazine
Also available as the Recon Tactical Model, 16" and Tactical Hunter Model, 18" or 20"
---
The Top Ten Tactical Hog Hunting Rifles list continues in Part 2.  Keep reading!