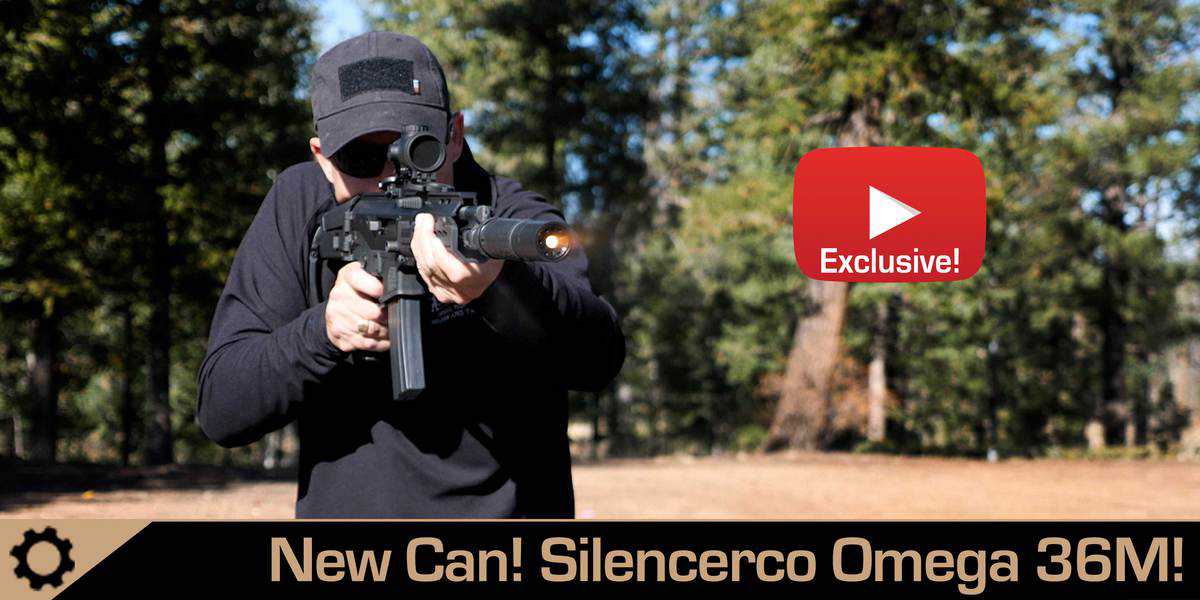 You won't find another review of the new Silencerco Omega 36M like this one, guaranteed. Not only can you read up on the new 36M modular silencer, watching our video from the Silencerco first-look private event will let you see behind the curtain. What curtain? We take you through the factory where you'll see first hand how Silencerco makes their cans, including the brand new 36M. You'll also discover what it's like to experience a new product launch as a member of the gun industry media.
But first you want the 36M essentials, right?
Silencerco
Let's break it down like this: Silencerco is the 800-pound gorilla of the suppressor business. Some love gorillas, some hate them. My preference? Cans on everything. Seriously. Silencerco isn't the oldest maker of cans, but they own the lion's share of market share at the moment.
Inside the plant, I believe they said they run 55 or so CNC machines. That's a big investment of money. Employing the better part of 200 employees, downtime on a machine can create all kinds of standstills. No surprise then, Silencerco deploys high tech monitoring systems you can see in our video at the end of this story. Management stays on top of the numbers, quoting them on the factory tour like an NFL statistician during a rapid-fire halftime show.
The Silencerco Omega 36M
Assuming they have their numbers correct, the Silencerco Omega 300 (the cylindrical performer previously known as "Omega" – reviewed here) is the best selling silencer in history. No surprise then, the Omega 36M appears to be largely based on the same design.
The Omega 36M uses an ASR Charlie mount or thread mount, shipping with both options in the same box. The can plays nicely with bigger calibers. Full-auto rated, the 36M stats show compatibility with a wide range of calibers – Centerfire rifle cartridges from the small 22 Hornet all the way up to 338 Lapua Magnum, which I'll get back to momentarily. Center fire pistols rounds up to 9mm are good to go.
As I mention in the video, the Omega 36M on a 338 Lapua Magnum made quite an impression on me. I don't currently have a 338 LM to test with, but Silencerco showed one off with the 36M. I was quite surprised that the big gun was solidly in the quitter-than-expected category. However, physics being the harsh mistress she is, the suppressed 350 Legend struck me as louder than I expected.
That same mistress presents some other limits for some users. 223 Remington/5.56mm NATO rounds need a 10" or longer barrel. 308 Winchester/7.62mm NATO requires a 16" barrel while 300 Win Mag and 338 Lapua Mag have 20" minimums.
M is for Modular
The quest for the one can for all your guns is alive and well with the Omega 36M. Not only can your run more calibers of ammo than Baskin Robins has flavors of ice cream, you can make configure it short or long.
Omega 36M Specifications
Rarely will I publish a spec sheet for a product as they lack context, but this is a brand new can. So here you go:
Weight and Length Chart
Configuration
Attachment
Length (in)
Weight (oz)
Short
No attachment
4.9
9.2
Short
3-Lug
5.23
13.9
Short
ASR
5.71
13.7
Short
Direct
5.1
12.4
Short
Piston
5.47
13.8
Long
No attachment
6.84
11.9
Long
3-Lug
7.1
16.6
Long
ASR
7.65
16.4
Long
Direct
7.04
15.1
Long
Piston
7.41
16.5
MSRP $1187
The Omega 36M, the Perfect Can?
Uh, no. There's no such thing. It certainly covers a wildly broad range of rifle and pistol ammo, though. I cannot say with scientific certainty, but when you hear the report in our video below, it appears to really work well with 300 Win Mag and 6.5 Creedmoor. The 36M also proved impressive on an ACR SBR and pistol (5.56 and 6.8). Go ahead, hit play and comment below.