Me reviewing the IWI Galil .308 here may surprise some people. Over the last few years my lack of enthusiasm for the .308 is no secret. I have expressed it in articles, blogs and to my friends. It's not some campaign against the caliber, nor is it some lack of recognition as to how entrenched it is in the market. Having used .308 as a police sniper for a couple of decades, it's not due to a lack of knowledge or experience. To paraphrase the character "Quigly," I never said I don't know how to use it, I just don't have any use for it; the distinction is critical.
No longer hindered by administrative restraint or archaic police policy, the 6.5mm cartridges are more useful to me. They shoot flatter, softer, and are less effected by wind. Nor am I bound by some neophyte clinging to hackneyed notions a 175 grain .308 is more "devastating" on soft targets at 800 yards (or beyond) than a 140 grain 260 Remington. That's right up there with the whole "one shot stop" nonsense. It continues to amaze me how easily "experts" – some with real experience – cling to ridiculous notions based on pseudo-science, mythology, and media fabrication. My guess is none of them would be willing to test that theory. Truth is, .308 is just a cartridge, and it has strengths and weaknesses. It either meets your needs or not, but it does what it does, simple as that.
What it does well for me is engage four or two legged targets with authority (more than a 5.56mm) out to 600 yards using a 16" barrel or shorter, something the 6.5mm's do not excel at. Ammunition is varied, plentiful, and can be less expensive. As an all-purpose big bore it's hard to beat, especially in a semi-automatic. Problem for me has been finding one that works all the time without beating my optics (or me) to death, while maintaining solid accuracy. The Galil ACE .308 looked like it might answer that call.
All Purpose Rifle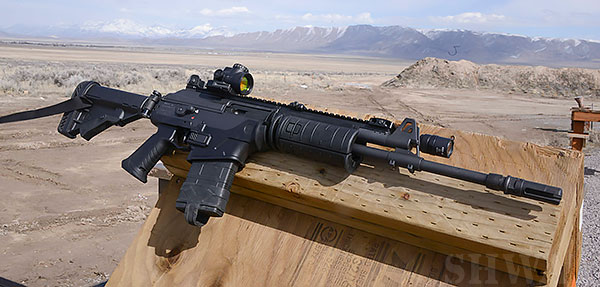 I agree with most of the industry and punditry the 16-18" barreled .308 is a fantastic all-purpose rifle. I have been using and testing them for a couple decades, constantly on the search for the one that fits my requirements. As a grab and go rifle it needs to be light, accurate, easy to store (folding stock preferred), and above all reliable AND accurate. Not precision rifle accurate, I have real precision rifles for that, but 1.5 MOA or so. Testing began years ago with the M1A and G3, along with some FAL variants, a few AK's and eventually the SCAR. All had their plusses and minuses with the SCAR 17 the closest to ideal for me. Problem is that as age creeps in optics are in the plan and I just never could justify the extra $1200-1500 and the additional need for proprietary magazines. Great rifle, just not for me.
The AR has occupied that search the last few years. It has great ergonomics and can be very accurate, its reliability is the issue. I realize every magazine article says they are "flawless", and a few tested have been, with a qualification or two. Most .308 AR's are reliable "if…" If it's the right ammo (no steel cases), if it's tuned properly, if it uses the right magazine, if it's unsuppressed, if there is a muzzle brake, if it's oiled and clean and so forth. Most are recoil intensive, stop working when they get real life dirty, and will turn from brass making machines into malfunction trainers with some types of ammunition.
I want a .308 do-all gun free from the issues I described above. So far, this IWI Galil ACE .308 looks promising. I expected it to work, it's based on an AK, but it is surprisingly accurate, and it runs steel cased ammunition like a boss!
IWI USA Galil ACE .308
IWI starts with a milled steel receiver using polymer for the hand guard, magwell, grip and stock. An AR style stock is adjustable for length of pull and includes a rubber recoil pad and important to me, it folds. The steel folding hinge locks solidly. It uses an AK style gas system, but unlike an AK47 the gas tube is mounted using a dovetail slide machined into the receiver. It avoids unnecessary movement during firing and increases accuracy potential and consistency. Barrel is 16 inches, cold hammer forged CrMoV, chrome lined, and uses a 1:12 RH twist rate. It is capped with a muzzle brake. The full length two piece Picatinny top rail accommodates optics, red dots, and other sighting systems. Just like the Tavor X-95 the hand guard has removable rail covers with access for accessories and/or a bi-pod. Sights are fully adjustable and robust with tritium inserts. Using a large knurled knob on the left side for charging, it includes a cover to keep out the elements.
Assembled in the United States from a mix of imported and US parts, this Galil ACE accepts any SR25 patterned magazine. Using an ambidextrous magazine release accommodates both hands, as well as various reloading methods. Safety operation is ambidextrous with a thumb activated lever just behind the trigger on the left side. The more traditional Galil / AK style safety sits on the right side with an easy to access lever. An oversized trigger guard covers the two-stage trigger from the Galil Sniper rifle. It uses a curved shoe with a flat face breaking at about 5 pounds. Weighing in at 8.7 pounds keeps it handy, folding the stock allows it to fit in most carbine cases, bags, or the current crop of tactical packs.
Testing 
Previous testing covered more than a few configurations, this one was all about my final setup and running it hard. Ammunition was all Hornady 155 grain Steel Match, the perfect mating for practice and training time with this rifle. Steel Match can be incredibly accurate, uses steel cases, and is cost effective. This rifle is hard on brass so the less expensive steel case ammo is about perfect. It's also a solid match for zero to the 155 grain AMAX, and even the Remington 165 grain Accutip is close, both excellent deployment / hunting rounds.
Optics are all Trijicon starting with the new 1-8 power Accupower. This scope provides all the magnification needed for this rifle, is compact with great knobs, and has a Segmented Circle reticle using mils on both stadia lines. A true one power optic, just turn on the illumination and you have a solid red dot. For hog hunting, the most likely use for this rifle, it is about perfect. Glass is crystal clear, Trijicon is proven rugged, and it fit perfectly on this rifle using a Leupold Mark 8 mount.
For most around town use the MRO is my preference, it will do what I need out to 300 yards and keeps things light. Using a Bobro Engineering low mount allows the use of the front sight up close. While it does not quite "co-witness" it's close, and more importantly the front sight does not interfere with my dot. Bobro's mount locks up tight yet can be released if needed for iron sight use. Trijicon's field of view in the MRO is much better than most and this sight has proven 100 percent reliable since acquiring it in 2015.
Black Hills ammunition was kind enough to provide a new Surefire M600 Ultra as part of a media kit. The mount was switched out to an M45 off-set mount and attached to the top rail just behind the front sight. For carry a sling was provided by a colleague, Mark Schuman, a local police officer. His sling is a two point with a metal slider and some padding. A two-point similar to other designs, it uses thin but strong webbing. Light, smooth, and strong, it works well and fits nicely into the sling slot on the Galil stock. With no QD cups, a Magpul loop was added to the front top rail for use with an HK clip.
Previous testing with the factory brake was ok, but it's still a brake, a no go on any rifle I will use outside the range. Surefire's excellent Warcomp was installed. While designed for use with their suppressor it remains one of the best compromise muzzle devices out there. It mitigates flash very well and tames recoil a bit with very little muzzle blast at the shooter or his/her partner.
Last, some time was spent using the NG2 Defense Maxflo suppressor. Full disclosure, I work for them and am doing most of the suppressor range testing now. Still, it's like nothing else out there using a flow through design resulting in no back pressure. AK gas systems seldom work well with conventional suppressors, so much so I just never attach them these days. It seemed an appropriate test given it's rated for any 30 caliber and any barrel length. This suppressor is close to the final design, just a little shorter and made from stainless steel.
Range Time 
Accuracy for this Galil .308 has been nothing short of astounding given the design. Most AK based rifles can be accurate, they just don't seem to be out of the box with most ammunition. My guess is the attachment of the gas tube on the Galil ACE is a huge improvement. Initial testing was surprising with groups at or under an inch at 100 yards the norm. While this test used Hornady Steel Match exclusively, the results from previous tests are included at the end. My best group at 100 yards with the Hornady using the Accupower was just under an inch. Swapping over to the MRO it still grouped at just under 1.5 inches. Hornady uses a BTHP and it is slow by comparison, but it is accurate for sure. This same rifle grouped Remington 165 grain Accutip into .75 inches cutting my accuracy requirement in about half. This Galil is quite the surprise with accuracy. Is much more like an AR here than a typical AK derivative. Excellent for self-defense, or just as importantly and far more realistically, HOG eradication.
Stretching out the range the Galil remained excellent. Once the 20+ MPH wind was accounted for it was possible for me to ring the 12" steel at 500 yards 8 times out of ten rounds with both misses just off the plate. Hits on the 600-meter target were about as regular, but the wind was a killer on test day. Hitting steel at longer ranges was possible, but it moves way beyond my expectation or requirement for this rifle. It remains a 600-yard rifle to me, and that it does incredibly well. Loaded with the Remington Accutip at closer to 2800 FPS it can even stretch out to 800 yards. Hornady Steel Match is a tad slow at 2420 considering the 155-grain bullet but it remains consistent at range and is an excellent choice for anything a BTHP would be used for. Check the accuracy box. Galil ACE .308 is good to go.
Reliability is where this rifle excels. Over the course of testing for some time, it has fed and spit out all kinds of different ammunition using every SR25 patterned magazine I could find. So far it has been tested in sub-zero weather, snow, some mud, and even a pretty nice 55-degree day with substantial wind. Loading up a 20-round magazine with 12 different loads ranging from 120 grain TAP to 175 grain match, and some stuff only identifiable as .308, it ran it all. I have tested AR's costing close to twice as much that cannot do this. Granted, they shoot into .5 or less at 100 yards, but that does not matter much in a fight if it won't run.
The Galil .308 does beat the snot out of brass though. Seldom does a round eject without a rather severely dented case mouth. Probably not the rifle to use if you intend on reloading it all the time or with your expensive cases. Deflection is mostly at 1:00 after smacking the deflector, perfect for a battle rifle. It may not drop it into a bucket at precisely the same spot, but it will eject it, and that is exactly what was required from me. The Warcomp recoil mitigation was noticeably less, but so was the muzzle blast while in close proximity. It will stay until something better comes along.
Since I work for NG2, and this is a test suppressor, I will keep this part to a minimum, but it was impressive. I have tested it on several rifles in calibers ranging from .223 to .308 with barrels as short as 7 inches without issue. Previous testing on a 12.75' PWS, a rifle all but impossible to reliably suppress normally, prompted giving it a try. Sound is what you expect from 6.25" 30 caliber suppressors, but there is no back pressure and more importantly no excess gas. It was no exception here, not out of the ejection port or the gas tube. Adding it did nothing to affect ejection or reliability, it was like it wasn't there other than to quiet things down. Recoil mitigation was very noticeable even rapping off 5 shot strings as fast as the trigger could be pulled. Accuracy was unaffected; to a certain extent it (or I) got better. Looking forward to more on this suppressor.
Other Considerations 
Mounting the Trijicon Accupower in the Mark 8 mount to the Galil ACE proved about perfect. Given the extended eye relief it was possible to mount the Accupower just forward of the rear sight. Leupolds mount was designed for the CQBSS and keeps it low. It meant no need for the cheek piece. It was not a "perfect" cheek weld but this is not a precision rifle, more like a scoped carbine in .308 caliber. This means if the need arose you just remove the scope and mount and you are back at the irons. Zero was never lost, it could be used from 1-8 power, and it remained secure during some pretty harsh testing. Cranked down to 1 power and illuminating gave you as close to a RDS as you get with an optic.
There is a bunch to like about this rifle and the trigger may be the best. Borrowed from the Galil sniper rifle, it is a crisp two stage that is designed for harsh use. It is crisp with a noticeable wall between stages. Facilitating solid accuracy from prone or rested it can also be very fast. Running doubles, triples, and even five shot strings it is about as fast as it gets short of a straight up competition rifle. Flat with a moderate curve it fits my hands perfectly and was easy to control even with winter gloves.
Safety manipulation is about as good as it gets with the Galil ACE. A lever just under the trigger guard can be activated with your thumb, a more standard version on the right side can be manipulated with your right hand. I found it best to remove the safety with my strong hand thumb then reactivate it with my trigger finger keeping the rifle in complete control. Magazine release can be activated on either side using a large, protected, and heavily grooved release. The large knurled charging handle on the left side is easy to access and makes for fast reloads if you are into that. Having used a similar dust cover on previous Galils I can say it works well.
Pistol grip is comfy, and the hand guard is solid. If you are into the "slim is in" crowd this will probably not feel as good. You also are not going to be able extend your hand all the way forward, but it's a battle rifle / hog eradicator, not a competition gun, so for me that was not an issue. My preference was to keep that area clean although you can remove the covers and use the rails. You can add a bipod, but that won't happen here. This test used nothing but packs and a small bag for a rest, things you have with you, and it worked best and kept it light.
Final Thoughts 
For me, the weakest point of the Galil ACE .308 was the absence of modern two-point sling attachment points. You can use the loop at the stock hinge for a single point, and there are slots in the stock, but there are no QD cups at all, and no attachment for the front end supplied. Workable for sure, it would just be nice to attach a sling other than a single point without needing additional hardware. Probably not an issue for people who don't carry their rifles beyond the bench, but it would be nice to see on future rifles.
The folding stock is solid and allows for a cheek piece. Attach the cheek piece and the iron sights are about impossible to access though. Keep your scope and RDS AR height however and you can run both without removing it. Just a matter of preference, but I like to keep additions to a minimum.
Just to be clear, it's an import making it subject to US Code Title 18 Chapter 44 Section 922(r) dealing with the number of US made parts vs. imported parts on your gun. Not that there is a ton to accessorize it with, but it's good to remember. For me there was nothing to add, it's part of the appeal, but if you never met anything you won't change or screw with, this is probably not the best choice.
Clearly I like this rifle, more than I expected. As a long-time AK user, the ergonomics are familiar, the left hand charging my preference. But the accuracy really solidified my appreciation for it. Is it perfect? Of course not, but it's as close to my required specifications for a grab and go 16" .308 as anything to date. With AK reliability, ambidextrous controls, common magazine compatibility, solid ergonomics, and impressive accuracy this Galil ACE .308 rifle will be close at hand most of the time, and is already being prepped for the next Hog Hunting Adventure!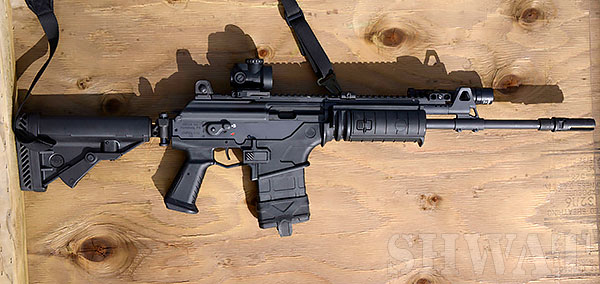 Action
Semi-auto
Operating System
Closed rotating bolt, long stroke gas piston
Magazine Type
MAGPUL LR/SR25 GEN M3
Magazine Capacity
20 rounds
Barrel Material
Cold hammer forged, CrMoV, Chrome lined
Barrel Length
16″
Overall Length
36″ (Buttstock Unfolded and Collapsed)
Weight
8.7 lbs w/out Magazine
Rifling
Right Hand, 1:12 inch twist
Stock Color
Black
Sights

 

 

MRSP

Adjustable with Tritium front post and 2-dot

Tritium rear aperture.

$2099.00
Ammunition Tested
Hornady Steel Match 155 Grain BTHP
2425 fps – .75 Inches
Remington 165 Grain Premium Accutip
2800 fps – .81 Inches
Prime 175 Grain BTHP Match
2650 fps – 1.00 Inch
Black Hills 168 Grain BTHP Match
2700 – 1.25 Inches
Groups tested from a bench using a bi-pod as a rest. Hornady tested from a bag using a barricade as a rest. Best group shown over five (5) shot groups from 100 yards. Velocity measured using a Competition Electronics ProChrono Digital Chronograph.