It's a wrap – 2012 has just flown by, and SHWAT.com is now a year old!  In that year you've seen SHWAT launch from obscurity and – many thanks to you – grow dramatically.  We hope you've enjoyed it as much as we have.  We've been privileged to bring you stories from top names in the industry like Bill Wilson, Founder of the legendary Wilson Combat, Fred Mastison, tactical trainer and founder of Force Options USA, NRA Field Editor Brian McCombie and others. We've reviewed guns and gear, shared stories of hunting, given practical advice and tips on tactical hog hunting, done night vision videos, run silencers and so much more.
To wrap up the year, we've picked a handful of stories we think you'll be excited to read and put them together here.  Check them out, you'll be glad you did!
Tactical Training and Wild Hogs: Perfect Practical Application
by Fred Mastiston of Force Options USA
In the minds of many, the hunting world and the tactical world are mutually exclusive. Their purposes, methods and gear are relevant to the field of application. Yet, I would venture to say that on some fundamental levels they both share a very serious theme:  the efficient and effective deployment of a weapon to put down a target. When push comes to shove, triggers are being pressed for the same reason.  Having spent thirty plus years training in CQB / CQD style combatives, I believe there is something to be gained by the tactical shooting community through an occasional hog hunt. Read more
---
Top Ten Hog Hunting Rifles: The Tactical Advantage!
By Brian McCombie, NRA Field Editor
When it comes to firearms, there's never been a better time to be a tactical hog hunter. Gun makers keep producing new rifles, in new calibers and various tactical configurations.
Some of the new rifles on the market today are designed with rather specific hog hunting applications in mind, such as suppressed hunting. Others allow you to apply the tactical advantage across a wide range of hog hunting situations.
As a way to kick start the discussion, SHWAT presents ten of the top hog killers available today. Let us know what you think, as well as your personal favorites for engaging multiple hog targets. Jump on our Facebook page to post. We'd like to include your suggestions in an upcoming SHWAT feature!  Read more
---
Sex, Intimidation and Adaptability – The Ethology of the Wild Hog
By Dr. John Woods, PhD
Special Hog Weapons and Tactics™ founders tossed me this pork rib bone so naturally I had to gnaw on it a bit.  Turns out some of the best, latest and great biological work done on wild hogs is conducted right here in my native Mississippi at our land-grant college, Mississippi State University.  Professor Bronson Strickland is the prime source, should you SHWAT.com readers wish to delve into this subject deeper.  They have put out some excellent work on hog behavior, management, and control.  Good reading.
I've had to dust off my master's degree in wildlife sciences a bit here, because my primary focus related to my outdoor writing has been concentrated on white-tailed deer and wild turkey all these 30+ years.  Now my interest is drawn to the nature of the wild hog.  So, in compact form, I share here just a thumbnail sketch of the creatures' ethology, or the science of its animal behavior.
---
How to Kill and Recover a Hog
By Bill Wilson of Wilson Combat
Having now shot over 1000 hogs with calibers ranging from .223 to 9.3×62, I feel I've learned a little about shot placement and what hogs do after being shot. I'll share with you my observations based on years of real world hog hunting. Caliber, bullet, shot placement, your range to target, the size of your target – all these factor into killing and recovering your hog.
On top of that, factor in a hunter's experience. I have inexperienced hunters/clients wound hogs all the time under conditions that would have been easy for me or any other experienced hunter. Conditions and shooter skills really have to be taken into consideration here. If you want to find out how I assess what it takes to kill and recover a hog, keep reading.
---
Silencers Are Legal Shoot – Videos, Pics, and Intel

By Stephen Owen, SHWAT™ Founder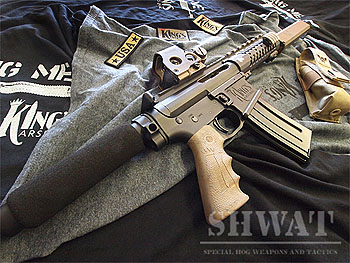 SHWAT™ founders Jonathan and Stephen attended the First Annual Silencers are Legal Shoot in Dallas on Saturday April 28th. Seen at the event: everything from revolvers (really) to HK 45s, from MP5-SDs to super quiet bolt guns. Of course, the ubiquitous .223 & .300 Blackout ARs were everywhere. Even a .50 BMG rifle and M249 SAW were present. Intended as an educational and outreach as well as a fun event, it was a great success. Attendees were having a blast and finding out just what "silencers" are all about. This story is full of great pictures and video you don't want to miss. You will probably want one of everything you see…  Keep reading!
---
Why We Love Tactical Hog Hunting: 2 Guys, 23 Hogs Part 1
By Jonathan Owen, SHWAT™ Founder
Tactical hog hunting covers a really wide set of circumstances.  It includes the one shot one kill precision shot over distance, the spot and stalk, bolt guns, AR-15s, silencers and night vision.  Ultimately, tactical hog hunting brings together shooters of all stripes to take on the challenge of the exploding feral hog population.  The hog problem is more than the catalyst for hunting.  In places, the sole purpose for hunting hogs is the eradication of this invasive, destructive menace.
Some who hold a narrow definition the term "hunting" where harvesting meat is mandatory, struggle to understand the purpose, and the excitement, of the much needed high-speed eradication of this species. This is not a story for them.
This is the story of Texas tactical hog hunting. It's part one of a story of two well equipped good friends, Andrew Quant (owner of Atwell Tactical in Richardson, Texas) and Andrew Pickett. Add to that a land owner who trusted them. The 2000 acre cattle ranch in this story consisted of overgrown brushy terrain that had not been hunted.  It was the perfect location for happy hogs, but made for a frustrated rancher who had reached out to the hunters for help.  Read on…