For a variety of reasons lots of hunters and shooters like to have back up iron sights (BUIS) on their rifles. Plenty of people like them as primaries. In any event Magpul keeps many pretty happy with their MBUS Pro sights. Want those sights to work better in the day and be perfectly useful in the dark? Then this is for you!
The Blitzkrieg Components AR-15 Spike Front Sight Post for the Magpul MBUS Pro sights provides superior sighting with a sharp aiming point and a bold, fast sight picture. The sharp aiming point enables precise aiming and high confidence on difficult shots. Shooters and hunters should find the sight post easy to see and fast to use.
The bold, contrasting luminescent green stripe gives the shooter an eye catching sight picture in both bright-light and low-light environments and against all types of backgrounds. Contrast on contrast seems to be the idea here. We all see colors slightly differently, but most people see the luminescent green stripe as slightly yellow in daylight and glowing green in low light. It is a five layer paint application into a machined grove. The result is a bright yellow contrast stripe in daylight and a bright green glowing stripe in low light and darkness.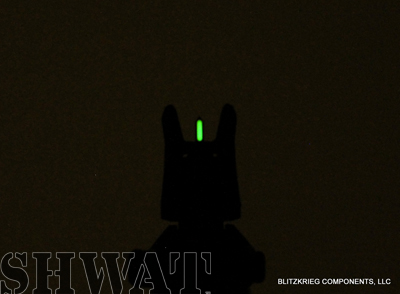 It seems Blitzkrieg Components has taken a page from the Heckler and Koch school of luminescence. The luminescent (glow) stripe glows brightly when charged and the glow brightness dissipates gradually in darkness. Just like my HK VP9 factory sights, the brighter and longer the light charge is, the brighter and longer the glow will be. Sunlight and LED flashlights give the best charge, but any type of lighting will work. Cellphones could prove handy… It will glow very bright after just a few seconds of charge, and will glow longer with a bit longer charge. Typically, in total darkness after being charged you can expect it to glow brightly for five minutes, brighter than tritium for 30 minutes and at a lower level for a few hours. 
The bright glow makes the sight dramatically easier to pick up against dark targets and background clutter where black sight posts get completely lost. Practically speaking, this looks promising when hunting after dark but where you are not using night vision or thermal. Moonlight and spotlight hunters might see some real benefits and the limitations of the charge expiring won't be an issue.